About Us
Chopsticks is a Chinese takeaway in Essex. Why don't you try our Bean Sauce or M52. Four Vegetable Ensemble?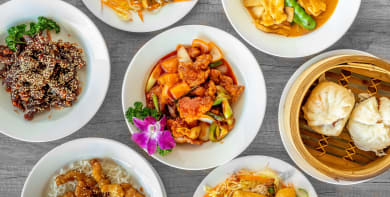 Reviews
363 reviews
Jean
"First delivery from Chopstcks. Really enjoyed the food and the delivery came in a sensible time although it was a Thursday evening and just after 6pm."
06/05/2021
Daniel
"Everything went as expected. Very efficient and timely."
27/04/2021
Charles
"Banging, worth the wait"
17/04/2021
john
"Very nice"
17/04/2021
Menu
XX. Omelette K. Mushroom (V)
£4.40
XX. Omelette D. King Prawn
£5.90
M71. Roast duck in Chinese Style
£6.20
M72. Roast Duck in Black Bean Sauce
£6.20
M73. Roast Duck in Ginger & Spring Onion
£6.20
M75. Lamb in Ginger & Spring Onion
£6.40
M76. Garlic & Chilli Lamb
£6.40
N1. House Special (Gravy) A. Thin Noodle
Large
Stir fried king prawn, beef, chicken & roast pork with celery, Chinese leaf, mushrooms, baby corn & sugar snaps in garlic soya oyster sauce
£6.80
N1. House Special (Gravy) B. Crispy Noodle
Large
Stir fried king prawn, beef, chicken & roast pork with celery, Chinese leaf, mushrooms, baby corn & sugar snaps in garlic soya oyster sauce
£6.80
N2. Seafood Special (Gravy) A. Thin Noodle
Stir fried king prawn, fish cake, squid & mussels, spring onion & onion in a crystal oyster sauce with vegetables
£7.50
N2. Seafood Special (Gravy) B. Crispy Noodle
Stir fried king prawn, fish cake, squid & mussels, spring onion & onion in a crystal oyster sauce with vegetables
£7.50
N3. Yeung Chow Special Mixed Noodle (Dry)
£5.50
N4. Chow Mein (Dry) A. Chicken
Soft egg noodles
£5.40
N4. Chow Mein (Dry) B. Pork
Soft egg noodles
£5.40
N4. Chow Mein (Dry) C. Beef
Soft egg noodles
£5.40
N4. Chow Mein (Dry) D. King Prawns
Soft egg noodles
£6.50
N4. Chow Mein (Dry) G. Roast Duck
Soft egg noodles
£6.50
N4. Chow Mein (Dry) K. Mushroom (V)
Soft egg noodles
£4.90
N4. Chow Mein (Dry) MV. Mixed Vegetables (V)
Soft egg noodles
£4.90
N4. Chow Mein (Dry) P. Plain Noodle (V)
Soft egg noodles
£4.00
N5. Pad Thai A. Chicken
With peanuts
£6.90
N5. Pad Thai C. Beef
With peanuts
£6.90
N5. Pad Thai D. King Prawns
With peanuts
£7.50
N5. Pad Thai J. Tofu (V)
With peanuts
£6.20
N5. Pad Thai MV. Mixed Vegetables (V)
With peanuts
£6.20
N6. Japanese Udon Noodles (Dry) A. Chicken
£6.50
N6. Japanese Udon Noodles (Dry) C. Beef
£6.50
N6. Japanese Udon Noodles (Dry) D. King Prawns
£7.20
N6. Japanese Udon Noodles (Dry) MM. Special Mixed with Chicken, Pork, Beef & King Prawn
£7.20
N6. Japanese Udon Noodles (Dry) MS. Mixed Seafood with King Prawn, Fish Cake, Squid & Mussels
£7.50
N6. Japanese Udon Noodles (Dry) J. Tofu (V)
£6.00
N6. Japanese Udon Noodles (Dry) MV. Mixed Vegetable (V)
£6.00
N7. Singapore Rice Noodle (Dry) A. Chicken
Vermicelli
£5.80
N7. Singapore Rice Noodle (Dry) C. Beef
Vermicelli
£5.80
N7. Singapore Rice Noodle (Dry) D. King Prawns
Vermicelli
£6.80
N7. Singapore Rice Noodle (Dry) J. Tofu (V)
Vermicelli
£5.20
N7. Singapore Rice Noodle (Dry) MV. Mixed Vegetable (V)
Vermicelli
£5.20
N7. Singapore Rice Noodle (Dry) MM. Special Mixed with Chicken, Pork, Fish Cake & Shrimp
Vermicelli
£6.00
N8. Hofan in Black Bean Sauce or Dry A. Chicken
£6.80
N8. Hofan in Black Bean Sauce or Dry C. Beef
£6.80
N8. Hofan in Black Bean Sauce or Dry D. King Prawns
£7.80
N8. Hofan in Black Bean Sauce or Dry F. Squid
£7.80
N8. Hofan in Black Bean Sauce or Dry MM. Special Mixed with Chicken, Pork, Beef & King Prawn
£7.80
N8. Hofan in Black Bean Sauce or Dry MS. Mixed Seafood with King Prawn, Fish Cake, Squid & Mussels
£8.10
N8. Hofan in Black Bean Sauce or Dry MV. Mixed Vegetable (V)
£6.10
N4. Chow Mein (Dry) BP. Bean Sprouts
Soft egg noodles
£4.00
N5. Pad Thai SM. Special Mixed Meal
With peanuts
£7.50
XX. Foo Yung K. Mushroom (V)
£4.40
XX. Foo Yung D. King Prawn
£5.90
M46. Japanese Katsu Curry A. Chicken
£6.20
M46. Japanese Katsu Curry D. King Prawn
£7.20
D11. Pineapple Fritters (4)
£3.20
21. Hot & Sour Soup A. Meat
£3.40
21. Hot & Sour Soup B. Vegetable
£3.00
22. Creamy Sweetcorn & Egg Soup A. Chicken
£3.00
22. Creamy Sweetcorn & Egg Soup B. Crab Meat
£3.20
22. Creamy Sweetcorn & Egg Soup C. Plain (No Egg) (V)
£2.80
24. Chicken Mushroom Soup
£3.00
25. Buddhist Broth (Vegetable Soup)
£2.90
26. Thai Tom Yum Soup MS. Mixed Seafood with King Prawn, Squid & Mussels
£4.80
26. Thai Tom Yum Soup M. Mixed Vegetables (V)
£3.60
26. Thai Tom Yum Soup J. Tofu (V)
£3.60
Set Meal 1
Chicken curry
Egg fried rice
£6.10
Set Meal 2
Sweet & sour chicken ball (5)
Chicken with mushroom
Egg fried rice
£8.20
Set Meal 3
Sweet & sour chicken ball (5)
King prawn in black bean sauce
Egg fried rice
£8.70
M8. Chicken with Mixed Vegetables
£5.50
M9. Chicken with Mushroom
£5.50
M7. Chicken with Seasonal Vegetables
£5.50
M3. Chicken in Black Bean Sauce
£5.50
M2. Royal Pineapple Chicken
£5.50
M1. Garlic Chilli Chicken
£5.60
M10. Roast Chicken Chinese Style with BBQ Sauce
£5.50
M11. Chicken with Ginger & Spring Onions
£5.50
M12. Chicken with Cashew Nuts
£5.60
M13. Chicken & Cashew Nuts in Yellow Bean Sauce
£5.60
M4. Black Peppercorn Chicken
£5.50
M78a. Chicken with Tomatoes
£5.50
M40. Squid with Ginger & Spring Onions
£6.20
M41. Scallop in Black Bean Sauce
£7.60
M42. Quick Fried Scallops with Sugar Snap
£7.90
M30. King Prawns Cashew Nut in Yellow Bean Sauce
£6.70
M31. King Prawns in Black Bean Sauce
£6.60
M32. King Prawns with Mixed Vegetables
£6.60
M34. King Prawns with Sugar Snap
£6.70
M35. King Prawn in Black Peppercorn Sauce
£6.60
M36. King Prawns with Ginger & Spring Onions
£6.60
M37. King Prawn with Mushrooms
£6.60
M38. Squid in Black Bean Sauce
£6.20
M39. Squid with Seasonal Vegetables
£6.20
M26. Lobster (Whole in Shell) B. Salt & Pepper
£27.50
M26. Lobster (Whole in Shell) A. Pan Braised with Ginger & Spring Onion in a Garlic Oyster Sauce
£27.50
M27. Garlic Chilli King Prawns
£6.70
M28. Royal Pineapple King Prawn
£6.60
M29. King Prawns with Cashew Nuts
£6.70
M79. Seafood with Ginger & Spring Onion
£7.90
M43. Thai Green Curry C. Beef
£6.30
M43. Thai Green Curry A. Chicken
£6.20
M43. Thai Green Curry D. King Prawn
£7.20
M43. Thai Green Curry MV. Mixed Vegetable (V)
£5.80
M43. Thai Green Curry K. Mushrooms (V)
£5.80
M43. Thai Green Curry J. Tofu (V)
£5.80
M44. Thai Red Curry C. Beef
£6.30
M44. Thai Red Curry A. Chicken
£6.20
M44. Thai Red Curry D. King Prawn
£7.20
M44. Thai Red Curry MV. Mixed Vegetable (V)
£5.80
M44. Thai Red Curry K. Mushrooms (V)
£5.80
M44. Thai Red Curry J. Tofu (V)
£5.80
M45. Thai Sweet Chilli Sauce C. Beef
£6.30
M45. Thai Sweet Chilli Sauce A. Chicken
£6.20
M45. Thai Sweet Chilli Sauce D. King Prawn
£7.20
M45. Thai Sweet Chilli Sauce MV. Mixed Vegetable (V)
£5.80
M45. Thai Sweet Chilli Sauce K. Mushrooms (V)
£5.80
M45. Thai Sweet Chilli Sauce J. Tofu (V)
£5.80
M47. Rendang Traditional (Chef Flavour) C. Beef
£6.00
M47. Rendang Traditional (Chef Flavour) A. Chicken
£6.00
M47. Rendang Traditional (Chef Flavour) D. King Prawns
£7.20
M47. Rendang Traditional (Chef Flavour) J. Tofu (V)
£5.60
M21. Beef in Oyster Sauce
£5.60
M22. Black Peppercorn Beef
£5.60
M23. Beef with Cashew Nuts
£5.60
M24. Roasted Pork Chinese Style
£5.40
M25. Roasted Pork in Black Bean Sauce
£5.40
M17. Beef in Black Bean Sauce
£5.60
M18. Beef with Seasonal Vegetables
£5.60
M19. Beef with Ginger & Spring Onions
£5.60
M48. Pak Choi A. Stir Fried
£4.80
M49. Broccoli A. Stir Fried
£4.80
M50. Sugar Snaps A. Stir Fried
£4.80
M50. Sugar Snaps B. Steamed
£4.80
M51. Mushroom A. Stir Fried
£4.80
M52. Four Vegetable Ensemble A. Stir Fried
Chinese straw mushroom, baby corn, Chinese leaf & sugar snap
£4.80
M52. Four Vegetable Ensemble B. Steamed
Chinese straw mushroom, baby corn, Chinese leaf & sugar snap
£4.80
M53. Mixed Vegetable A. Stir Fried
Chinese leaf, carrots, celery, mushroom, baby corn, sugar snap, bean sprouts & onions
£4.80
M53. Mixed Vegetable B. Steamed
Chinese leaf, carrots, celery, mushroom, baby corn, sugar snap, bean sprouts & onions
£4.80
R1. House Special with Rice (Gravy) A. Boiled Rice
Large
Stir fried king prawn, beef, chicken & roast pork with celery, Chinese leaf, mushrooms, baby corn, & sugar snaps in garlic soya oyster sauce
£6.70
R1. House Special with Rice (Gravy) B. Egg Fried Rice
Large
Stir fried king prawn, beef, chicken & roast pork with celery, Chinese leaf, mushrooms, baby corn, & sugar snaps in garlic soya oyster sauce
£6.70
R2. Seafood Special with Rice (Gravy) A. Boiled Rice
Stir fried king prawn, fish cake, squid & mussels, spring onion & onion in a crystal oyster sauce with vegetables
£7.50
R2. Seafood Special with Rice (Gravy) B. Egg Fried Rice
Stir fried king prawn, fish cake, squid & mussels, spring onion & onion in a crystal oyster sauce with vegetables
£7.50
R3. Singapore Fried Rice Standard
£5.10
R3. Singapore Fried Rice Large
£6.10
R4. Thai Firecracker Rice Standard
£5.10
R4. Thai Firecracker Rice Large
£6.10
R5. Malaysia Fried Rice Standard
£5.10
R5. Malaysia Fried Rice Large
£6.10
R6. Yeung Chow Special Fried Rice Standard
£4.70
R6. Yeung Chow Special Fried Rice Large
£5.70
R7. Steamed Boiled Rice Standard
£3.10
R7. Steamed Boiled Rice Large
£4.00
R8. Steamed Coconut Rice Standard
£3.60
R8. Steamed Coconut Rice Large
£4.60
R9. Egg Fried Rice Standard
£3.30
R10. Chicken Fried Rice Standard
£4.60
R10. Chicken Fried Rice Large
£5.70
R11. BBQ Pork Fried Rice Standard
£4.60
R11. BBQ Pork Fried Rice Large
£5.70
R12. Beef Fried Rice Standard
£4.60
R12. Beef Fried Rice Large
£5.70
R13. King Prawn Fried Rice Standard
£5.40
R13. King Prawn Fried Rice Large
£6.40
R14. Roast Duck Fried Rice Standard
£5.40
R14. Roast Duck Fried Rice Large
£6.40
R15. Mixed Vegetable Fried Rice Standard
£4.20
R15. Mixed Vegetable Fried Rice Large
£5.30
R16. Mushroom Fried Rice Standard
£4.20
R16. Mushroom Fried Rice Large
£5.30
M60. Sweet & Sour King Prawn Balls
£6.60
M61. Sweet & Sour Pork Hong Kong Style
£5.50
M62. Sweet & Sour Mixed Vegetables
£4.80
M57. Sweet & Sour Chicken Hong Kong Style
£5.70
M58. Sweet & Sour Chicken Balls
£5.50
M59. Sweet & Sour King Prawns Hong Kong Style
£6.70
20 A. Har Kau (4)
Marinated prawn in rice pastry
£4.10
20 B. Prawn & Chive Dumpling (4)
Marinated pork & prawn in rice pastry
£4.10
20 C. Siu Mai (4)
Marinated pork & prawn in an egg pastry
£4.10
20 D. BBQ Char Siu Buns (2)
Soft white buns filled with roasted pork marinated in a honey sauce
£3.70
20 E. Crispy Prawn Dumpling (4)
Served with fresh lemon
£4.60
20 F. Peking Dumpling (6) A. Chicken
£5.50
20 F. Peking Dumpling (6) B. Pork
£5.50
20 G. Crispy Wonton Parcels (6)
£4.00
20 H. Japanese Crispy Dumpling (Gyoza) (6)
Mixed Vegetables
£5.40
20. Mixed Dim Sum Box
2 har kau (prawn), 2 siu mai (pork & prawn), 2 prawn chive dumpling, 2 BBQ char siu bun
£8.90
1. Crispy Aromatic Duck Half
Served with cucumber, spring onions & hoisin sauce
£16.80
1. Crispy Aromatic Duck Quarter
Served with cucumber, spring onions & hoisin sauce
£8.80
1. Crispy Aromatic Duck Whole
Served with cucumber, spring onions & hoisin sauce
£32.80
10. King Prawn in Breadcrumbs
£6.70
11. Crispy Pancake Spring Roll (1)
£2.00
12. Mini Vegetable Spring Roll (8)
£3.20
13. Spicy Salt & Pepper Dippers A. Chicken
£5.60
13. Spicy Salt & Pepper Dippers D. King Prawns
£6.70
13. Spicy Salt & Pepper Dippers F. Squid
£6.20
13. Spicy Salt & Pepper Dippers J. Tofu (V)
£5.20
14. Malaysian Satay on Bamboo Sticks (4) A. Chicken
£5.60
14. Malaysian Satay on Bamboo Sticks (4) D. Prawn
£6.50
15. Thai Fish Cakes Standard (4)
£3.50
15. Thai Fish Cakes Large (8)
£5.90
18. Peking Mixed Hor D'Oeuvres Box
To share with love
Minimum for 2
Sesame prawn toast, seaweed, tender spare ribs, satay chicken & vegetarian spring rolls
Served with satay sauce
£10.60
19. Malaysian & Thai Hor D' Oeuvres Box
To share with love
Minimum for 2
Stuffed crab claw, satay prawn (on bamboo sticks), Thai fish cake, crispy wonton & Thai prawn cracker
Served with a cup of Thai sweet chilli dip & satay sauce
£10.60
2. Crispy Lamb With Hoisin Sauce & Pancakes
£8.80
2. Crispy Lamb With Lettuce & Plum Sauce
£8.80
3. Smoked Shredded Crispy Chicken
£5.60
4A. Tender Spare Ribs with Fruity Mandarin Sauce Large
£7.50
4A. Tender Spare Ribs with Fruity Mandarin Sauce Standard
£5.90
4B. Tender Spare Ribs with BBQ Sauce Large
£7.50
4B. Tender Spare Ribs with BBQ Sauce Standard
£5.90
5. Prawns on Toast with Sesame Seeds (4)
£4.80
6. Stuffed Crab Claw Standard (4)
Served with lemon
£4.00
6. Stuffed Crab Claw Large (8)
Served with lemon
£6.90
7. Salt & Peppercorn Soft Shell Crab 01 Piece
£5.60
9. Chicken in Breadcrumbs
£5.60
7. Salt & Peppercorn Soft Shell Crab 02 Pieces
£9.80
4C. Tender Spare Ribs with Honey Sauce Standard
£5.90
4C. Tender Spare Ribs with Honey Sauce Large
£7.50
13. Spicy Salt & Pepper Dippers X. Ribs
£5.90
Special Banquet Dinner A Regular
Beef with mushroom
Sweet & sour pork Hong Kong style
Chicken mixed vegetable
Egg fried rice
Prawn cracker
£19.20
Special Banquet Dinner A Large
Beef with mushroom
Sweet & sour pork Hong Kong style
Chicken mixed vegetable
Egg fried rice
Prawn cracker
£25.80
Special Banquet Dinner B Regular
Mini vegetable spring rolls (8/12)
Chicken in black bean sauce
Sweet & sour king prawn Hong Kong style
Chicken chow mein
Egg fried rice
Prawn crackers
£20.90
Special Banquet Dinner B Large
Mini vegetable spring rolls (8/12)
Chicken in black bean sauce
Sweet & sour king prawn Hong Kong style
Chicken chow mein
Egg fried rice
Prawn crackers
£29.50
Special Banquet Dinner C Regular
Mandarin ribs
Sweet & sour king prawn Hong Kong style
Beef in black peppercorn sauce
Chicken with cashew nuts
Special fried rice
Prawn crackers
£25.90
Special Banquet Dinner C Large
Mandarin ribs
Sweet & sour king prawn Hong Kong style
Beef in black peppercorn sauce
Chicken with cashew nuts
Special fried rice
Prawn crackers
£35.90
Special Banquet Dinner D Regular (Serves 2-3)
Crispy aromatic duck (Quarter regular, half large)
Crispy chilli beef
Kung po chilli king prawn
Royal pineapple chicken
Four vegetable ensemble (V)
Special fried rice
£34.50
Special Banquet Dinner D Large (Serves 3-4)
Crispy aromatic duck (Quarter regular, half large)
Crispy chilli beef
Kung po chilli king prawn
Royal pineapple chicken
Four vegetable ensemble (V)
Special fried rice
£45.90
Special Banquet Dinner E Regular (Serves 2-3)
Crispy chilli beef
Thai green curry with chicken
King prawn in black peppercorn sauce
Singapore rice noodle
Thai spicy prawn crackers
£24.90
Special Banquet Dinner E Large (Serves 3-4)
Crispy chilli beef
Thai green curry with chicken
King prawn in black peppercorn sauce
Singapore rice noodle
Thai spicy prawn crackers
£32.50
Special Banquet Dinner F Regular (Serves 4-5)
Crispy aromatic duck (Quarter regular, half large)
Prawn toast with sesame seeds (6 Regular, 10 large)
Tender ribs in Mandarin sauce
Chicken with cashew nuts
Singapore chicken
Crispy chilli beef
Beef in black bean sauce
Sweet & sour king prawn Hong Kong style
Seasonal vegetable ensemble (V)
Special fried rice
Chicken chow mein
£62.50
Special Banquet Dinner F Large (Serves 6-7)
Crispy aromatic duck (Quarter regular, half large)
Prawn toast with sesame seeds (6 Regular, 10 large)
Tender ribs in Mandarin sauce
Chicken with cashew nuts
Singapore chicken
Crispy chilli beef
Beef in black bean sauce
Sweet & sour king prawn Hong Kong style
Seasonal vegetable ensemble (V)
Special fried rice
Chicken chow mein
£85.50
M69. Mixed Vegetable Curry
£4.60
Contact Us
Find Us
9 High Street, Essex, RM111TP
We deliver to
RM1, RM11, RM12, RM14, RM2